Langar Seva
The Board operates free Langar at Tarakote, Sanjhichhat and Bhairon ji for pilgrims round the clock.
Organise Langer

Donations
Donations are the mainstay of Income to provide facilities for Pilgrims and support Welfare Initiatives.
Donate Now

Prasad
Panchmeva & Box Prasad can be booked online for door step delivery all over India.
Book Prasad
About Shrine
The management of the Yatra and the governance and administration of the Shrine is looked after by the Shri Mata Vaishno Devi Shrine Board, popularly called the Shrine Board. The Board was set up in August 1986 under the provisions of The Jammu and Kashmir Shri Mata Vaishno Devi Shrine Act, 1988. The main objective of the Act was to provide for better management and governance of the Holy Shrine of Shri Mata Vaishno Devi Ji and its endowments including the appurtenant lands and buildings.
The Board comprises of a Chairman & not more than 10 members.
The Lt. Governor of the UT of Jammu and Kashmir by virtue of his office is the ex-officio Chairman of the Board. He nominates nine members in the Board at the policy making level. The Board discharge its duty through a Chief Executive Officer who is assisted by Officers deputed from Government of J&K and various Area Heads and Functional Heads.
Read More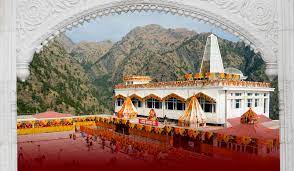 Shri Mata Vaishno Devi Charitable Society - "Partner With Us"
Yatra by Heli
0
Yatra Statistics-2023
0
Total Visitors
0
Awards
0
Join with us